Conn,
Let me address your particular hypothetical in a little more detail just to give an idea of what's actually at play here. We know from physics and Newton's laws of motion that the net force on an object (me, in your hypothetical) is a result of the vector sum of all the individual forces acting upon that object. I'm also only going to address the most relevant forces involved, leaving out air resistance, tensile coefficients of the various tissues in my body, etc. or else the whole thing would get very rocket science-y in a hurry, and those forces are negligible for our purposes.
In this case, for simplicity, we have gravity exerting a force of 100 Newtons on me (my current weight is 220 lbs, or 100kg) so far since I am stationary. I also have the ground pushing up on me with a balancing force, or normal force, of 100N as well.
Finally, we have friction. I'm assuming, again for simplicity, that we're both on a horizontal ground surface with no incline. I'll also use a static coefficient of friction for myself as being the same as that for rubber on concrete, roughly similar to the rubber soles of my shoes on the ground. This value is 1.0. Calculating the friction force is done by using the formula F =
u
R, where F is the force necessary to overcome the friction,
u
is the friction coefficient, and R is the normal force on the body, given as equal to its weight.
We have F = 1.0 x 100N, such that F = 100N. This means that it takes 100N of force to overcome the friction alone in order to move me along a horizontal plane. So, the following diagram illustrates the four basic forces in question: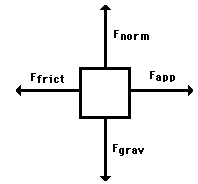 So far, we know that F
frict
= 100N. F
norm
and F
grav
are identical balancing forces, each with a value of 100N. This means that it would take at least 100N, or 220lbs, of force applied to me just to get me started moving in a horizontal plane.
Now, you also mentioned applying an uplifting force to me. This would reduce the amount of friction force that you would have to overcome, but it would do so at the expense of having to overcome at least some of the gravity force acting on me. Let's say that, arbitrarily, you wanted to reduce the amount of F
app
, or applied force, that you would have to use in order to move me horizontally down to just 20lbs of applied force. This converts to 9.0718474N. Using our equation for the amount of force necessary to overcome friction from above, F =
u
R, we get:
9.0718474N =
u
x 100N, where 100N is still my weight, which is identical to the F
norm
. So what we're trying to determine is just what friction coefficient you would need in order to balance this equation, which is the same as saying "How much do you need to reduce friction in order to move me with 20lbs of force?" The answer is that
u
must equal 0.09071847, which is a little less than the friction coefficient for ice on ice. Since we know that the friction coefficient itself doesn't actually change, we determine that what we really need to calculate is just how much of my weight is necessary to overcome in order to push me with 20lbs of force. That formula is still F =
u
R, where F = 9.0718474N and
u
still equals 1.0, so that rearranging the equation to solve for R, we get R = F/
u
, or R = 9.0718474N.
This means that in order to push me with just 20lbs of force applied horizontally, you would need to neutralize all but 20lbs of my weight. This means that you would have to lift me with a net total of 200lbs of force to reach that goal. Now, this all assumes that I'm roughly a simple cube of material. Obviously I'm not, but just as obviously, we see that it's not enough simply to lift me up then move me, unless your biceps are capable of lifting 200lbs before you push forward. What we have learned here is that it is also necessary to unbalance me along the longitudinal axis of my body so that I become "top heavy" and begin to fall in the desired direction when you begin to apply F
app
, the horizontal force.
Unbalancing me longitudinally over my center of gravity will significantly reduce the amount of F
app
you need, since you will no longer need to overcome all of the friction acting on me before part of me (roughly the top half) will begin to move. Calculating this exact figure gets very mathematically cumbersome at this point, but suffice it to say that the take-home lesson is that unbalancing another person first is damn near a necessity in order to move them with what we might call "minimal" force.
As to how much force is necessary in order to elicit pain, that is not only a separate question, but one for which the answer is not consistent even within a single individual, nevermind over an entire population. IOW, too subjective to answer meaningfully.