D_Glenn wrote:Every time he says 'hung' in the video and

uses his forearm to hit the guy's guard

, is what I'm talking about. The whole entirety of the video is about using

hung/ heng to set up subsequent punches.

I would have to list about 60 different time stamps, so it might be easier to just watch with sound on, and

know what the heng quan is

in xyq so you know what you're watching for.
Ok. I
do
"know what the heng quan is." Watch both the feeders and demonstrators in the following clips.
Here the feeder is "trying to not move and leaning onto one foot." There is no weight shift from one leg to another. There is no luring or listening by the demonstrator. The opponent can see him
aggressively
reaching for his arm and side stepping. Once the heng touches the guard, the feeder shifts his weight to the back foot and backs away. As the demonstrator continues to push the feeder away, he follows up with punches—that have
less impact
. The attacker does not demonstrate luring/how to get the opponent to double weight (freeze), listening, borrowing the opponent's force, timing, distance, etc: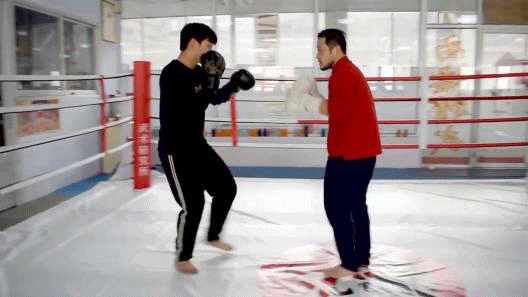 Watch both Cooney and Foreman at least a dozen times each. Both start from opposite sides of the ring (distance). Foreman, a southpaw, walks straight towards Cooney (at a
relaxed
pace but forward pressure nonetheless), lowers his left arm and shows an uppercut. Cooney reacts by shifting his weight (rocking) from his rear leg to his front leg and covering up (defense). While Cooney's weight is on his front left leg (unable to change), Foreman listens, changes his pace making a
quick step forward
to the right with his right foot, lands a left uppercut using spiral energy and cross body power (per Robert Tangora) with his right elbow pulling back. Then, Foreman (from the side door) turns, maintains his fast pace and follows up with a straight right, as Cooney falls to the canvas.
Foreman's punch is faster, more deceptive, harder to counter, better timing, more powerful and demonstrates more skill, than what the xingyi guy shows. But, many people will not understand and miss the skills while saying, "that's just boxing, it's a sport, trading punches, they're wearing gloves, didn't trap, didn't unbalance, not internal, not traditional, etc:"