MaartenSFS wrote:If you learn from a good teacher that doesn't waste your time then why not learn how to generate power in a way that almost no one else can, that doesn't require a wind up, that can be used from any angle, backwards or forwards, that does grievous damage to your opponent, that will only improve with age, not deteriorate?
Maarten,
I know that the promise is that "internal" power "will only improve with age, not deteriorate," but I do not know if this is true. I lack the experience, even subjectively, to be able to evaluate this claim, and I doubt that there is scientific evidence to back it up. Although conventional strength gradually decreases with age (Functional Threshold Power [FTP] for cyclists, as measured with power meters, decreases by ~0.5%/year beyond age 35 for Olympic level training athletes, and probably somewhat more for others):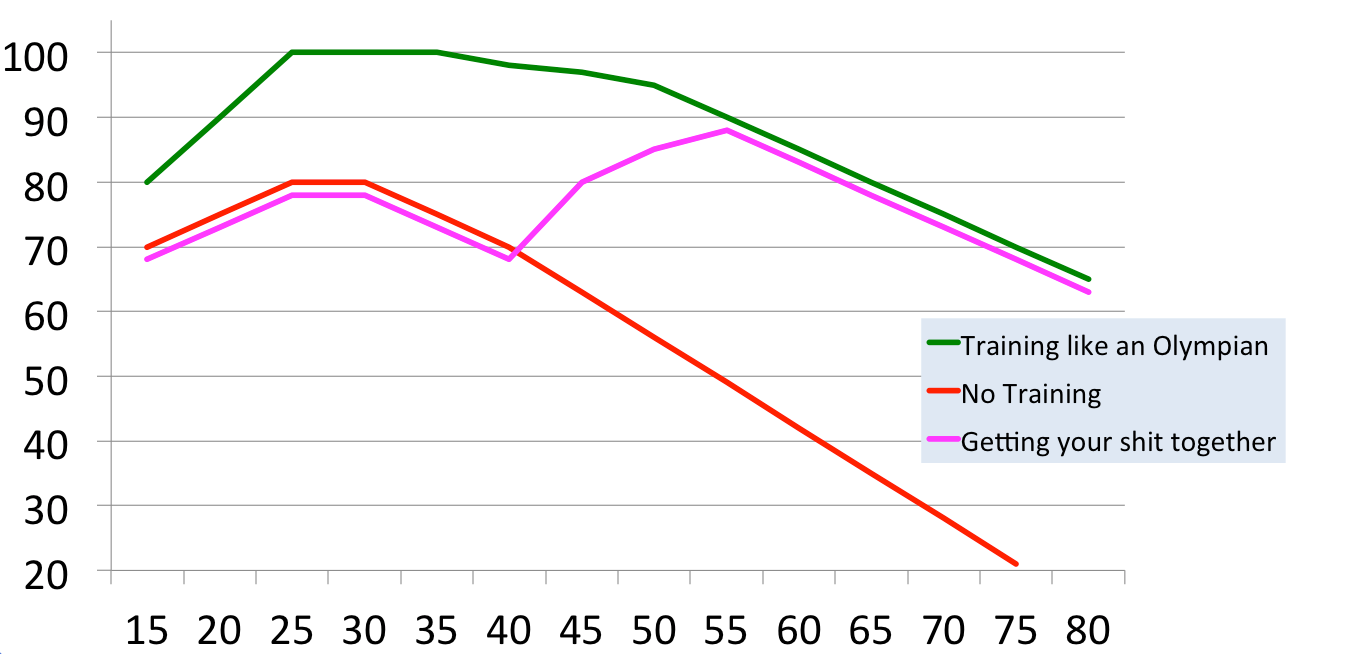 If a similar decrease holds for fighters, then once someone reaches their mid-50s they would likely notice that they have less power (FTP = ~10% less, which should be noticeable) than when they were in their prime. This is when a fighter, who wishes to continue as a fighter, may look to switch to the promise of "internal" power. But are the claims just stories and ideals, or are there good reasons to believe the claims? What experiences (even subjective ones) can you relay to us that lead you to believe these claims for "internal" power?
John,
You seem to clearly realize that one looses power with age, and you maintain rigorous training in order to lessen those losses. Would you be more interested in "internal" training if you could be convinced that power "will only improve with age, not deteriorate?" What would be necessary to convince you of that? Personally I am doubtful of those claims, and feel that they come from the culture of Chinese longevity/immortality traditions (e.g., Daoism) that, at least in modern practitioners, do not seem to be convincing (at least to me).
Speculation:
I've known senior practitioners who have had amazing skills for their age, but not necessarily when compared with a 30 year old, at least when comparing power generation. Many senior practitioners compensate for reduced physical abilities by increasing their efficiency, sensitivity, knowledge, wisdom, etc. But are "internal" practitioners really able to maintain their physical abilities, or are they just compensating for any declines by increasing their functional abilities in other ways? All older "internal" practitioners that I have experience with seem to have diminished power when in their 70's and above, despite their desires for "internal" power that does not diminish with age.
If we use the above graph as a speculative model, then we could assume that fighters trained in "internal" power could have 20% more power, the difference between the "no training" line and the "training like an Olympian" line. [Note that I have no idea what a realistic difference level for "external" vs. "internal" FTP would be, and as far as I know this has never actually been measured scientifically, but a 20% increase would not only be noticeable, it could subjectively seem very significant.] Using the graph, a "no training" fighter would notice a 10% decrease in their power when they reach age 40. After perhaps 5 years of subsequent "internal" training ("getting your shit together" line), the graph would indicate that they would have regained their previous level of FTP, and by age 50-55 would have increased their FTP beyond their prime untrained FTP (at age 25-30). At age 60 they may again notice a decrease in their FTP if their abilities were accurately reflected by the graph line for "getting your shit together." IF they continued fighting to age 65 and older, then they would again notice a decline in their FTP. Again, they would only again notice the decline if they did not retire from fighting/testing when they became a senior citizen.
Maarten may be young enough now to scientifically measure his FTP for a strike, and re-measure it when he turns 70 to see if his power is actually maintained (or increases), but I am too old to do that myself. He could also measure before "internal" training and after "internal" training of any student that he could convince to undergo his version of training for "internal" power. Otherwise I doubt that there is scientifically reliable information currently available that is appropriate to this discussion of "internal" vs. "external" power generation, or the longevity of "internal" power. I can envision subjectivity and ego (as well as cultural influences) contributing to the idea that "internal" power "will only improve with age, not deteriorate," but I would want reliable evidence before I would be convinced of this.