In MA, do we have absolute black and white? Are there any grey in between? What's your opinion on this?
If you use your arms to protect your head from hitting on the ground, you won't be able to use your arm to hit on the ground for break fall. Since you can't do 2 different things at the same time, you have to choose one from the other.
Shuai Chiao break fall.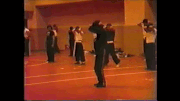 Judo break fall.
Also, you either use southern CMA WC punch with 90 degree shoulder,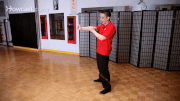 or you use nothern CMA punch with 180 degree shoulder.